Work-Life Policies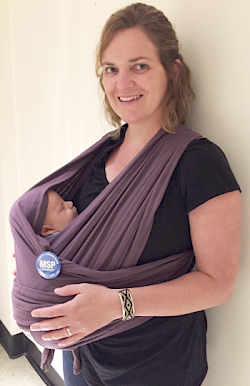 For over a decade the MSP has made work-life policies a top priority. We have negotiated with the administration to create excellent policies around parental leave, sick leave, family medical leave, partner hiring, and other benefits that make it possible for faculty and librarians to have full lives as well as careers. With changing gender roles and family forms, MSP has argued that faculty recruitment and retention requires university support for work-life balance.
Because of the MSP's efforts over many years – and thanks to the hundreds of faculty who came out in support of parental leave, childcare, and other crucial benefits – UMass Amherst has been recognized as a leader among research universities in supporting work-life balance.
Over the course of our careers, nearly all faculty and librarians will need flexibility to adjust the balance between our academic and personal lives – whether for the birth of a child, personal illness or disability, or the illness or death of a spouse, partner, or parent. Through MSP, faculty and librarians have won rights and benefits that offer support in these situations.
MSP strongly encourages faculty and librarians to take advantage of the contractual rights listed below. When we exercise our rights, we make it more acceptable for others to do the same. Work-life policies also make it easier for excellent and diverse faculty and librarians, especially women and people of color, to stay in academia and at UMass, benefiting colleagues and students for years to come.
Asha Nadkarni on the value of MSP work-life benefits [Watch on Vimeo]
Work-Life Policies for Faculty and Librarians at UMass Amherst
*Links to articles below reflect the langauge in the 2017-2020 CBA. For the most up-to-date language, please see the 2020-2023 CBA.
Work-Life Information and Resources
For Information on Health Insurance, Dental Insurance and Optical Discounts, visit our Member Benefits page.
The Institute for Teaching Excellence and Faculty Development
http://www.umass.edu/tefd/
Human Resources
http://www.umass.edu/humres/
Office of the Provost
http://www.umass.edu/provost/
The Faculty and Staff Assistance Program
http://www.umass.edu/humres/faculty-and-staff-assistance-program
The Academic Career Network
https://www.fivecolleges.edu/acn/
The UMass Center for Early Education and Care
www.Umass.edu/ceec
The Massachusetts Child Care Resources Online
http://machildcareresourcesonline.org/
Amherst Area Sittercity Program, to find care nationwide
https://www.sittercity.com/babysitters/ma/amherst
The STEM Travel Family Initiative
http://stemfamilytravel.org/
AAUP Statement of Principles on Family Responsibilities and Academic Work
http://www.aaup.org/AAUP/pubsres/policydocs/contents/workfam-stmt.htm
Unemployment Benefits for Adjuncts
https://massteacher.org/-/media/massteacher/files/about-us/higher-ed/unemployment_benefits_for_adjuncts.pdf?la=en