Retiree Membership
During the Fall of 2019, MSP launched its retiree membership program as a way for retired former MSP members to stay connected and involved in the MSP.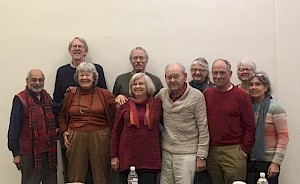 Benefits of an MSP Retiree Membership
Support faculty and librarians- Your membership contributes to the work that MSP does advocating for your faculty and librarian colleagues at UMass Amherst.
Stay connected- You are invited to attend our MSP retiree luncheons where you can meet other retirees and help shape the agenda of MSP retirees.
Advocate for public higher education- Legislators need to hear your voice. Join the MSP in advocacy days and actions in the fight for more funding and for public education.
Stay informed- Your membership includes a subscription to the MSP Chronicle newsletter

.

Get involved- Throughout the year MSP works on a variety of different campaigns

that could use your help. Whether it is successor contract bargaining, immigrants' rights or any issue affecting our members, we would love to work with you.
How to Join as an MSP Retiree
Choose your membership option– either yearly or lifetime, and send a completed form with a check for your retiree membership dues made out to MSP. Contact the office for a hard copy of the retiree membership form or with questions.
Retiree Resources
Materials distributed at MSP's February 2020 workshop on retirement:

Commonly Asked Retirement Questions- Generated from 2/2020 Workshop (Coming Soon!)

The Massachusetts Teachers Association: MTA offers free retirement consultations for current MSP/MTA/NEA members. Many of our MSP retirees also retain a retiree membership with the MTA/NEA. More information and MTA/NEA retiree benefits can be found on the MTA Retired Members page.
UMass Amherst Human Resources: Instructions for benefited employees regarding retirement.