MTA Member-Only Discounts & Benefits
Home >
MTA Member-Only Discounts & Benefits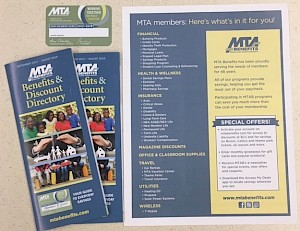 Members receive substantial savings through MTA-sponsored discount group purchasing. Some examples of the programs currently offered are:
Alternative Health Care
Auto Insurance
Auto Rental
BJ's Wholesale Club Discount
Credit Cards
Disability Insurance
Home Heating Oil Co-op
Home Mortgage Program
Homeowners and Renters Insurance
Hospital Income
Hotel Discounts
Legal Consultant Discounts through Legal Shield
Life Insurance
Long Term Care
Tax Preparation Services
Tax Sheltered Accounts
Theme Park Discounts
Travel Accident Insurance
Travel Program
Vision Care Plan
Please see the notice on how COVID has impacted the 2020-2021 benefits discount directory.
MTA Benefits also offers monthly give-aways, nationwide discounts and some benefits and savings for family members. For more information about these and other MTA-sponsored benefits, please call 1-800-336-0990 or visit the MTA Benefits Website.