Campaigns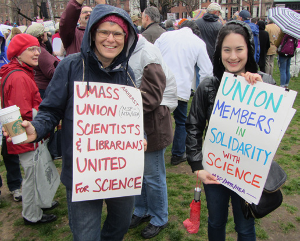 The MSP is an activist union. When problems come up on campus, we mobilize our members to speak up, and we work together to find solutions. We know that our strength is in our collective action and our strong membership. We fight for "bread-and-butter" contractual issues including salary and benefits, and we also work on social justice issues that are important to our members.
Faculty and librarians are committed to our students and the wider community, and we work to make UMass the best university it can be. To that end, we advocate for public higher education at the state and national level. The MSP is committed to:
Defending academic freedom
Protecting faculty governance and peer review
Standing in support of quality public education and accessible and affordable public higher education
Supporting our immigrant communities and protecting vulnerable groups
Upholding a planet-friendly, healthy environment for workers
Promoting equity and fairness on campus and beyond
Creating a transparent and democratic MTA union
If there is an issue that aligns with MSP's values that you would like to work on and think MSP should be a part of, contact the office to talk about starting a new campaign.