Funding for Public Education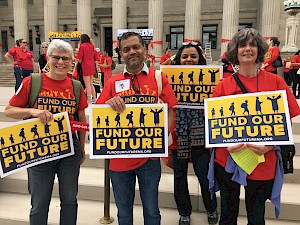 On a per-student basis, state support for public higher education in Massachusetts is fully one third less than it was in 2001. The impact of this chronic underfunding is felt by students, faculty and staff. The MSP is deeply committed to championing public higher education and fighting to secure more funding for our Universities.
MSP members have been active fighting for funding for public higher education through the Fund Our Future campaign and PHENOM.
Fund Our Future
The Fund Our Future initiative is an MTA led coalition effort to increase funding for public education. Through the Fund Our Future campaign, our members have worked with educators and students across the state to put pressure on our legislators by educating the public, testifying at advocacy days and attending demonstrations.
PHENOM
In 2007 MSP helped found PHENOM, the Public Higher Education Network of Massachusetts. PHENOM is a statewide advocacy coalition and grassroots network uniting students, faculty, staff, alumni, and community members from all 29 campuses in the Massachusetts college and university system.
PHENOM is fighting to restore state funding for public higher education and to stand up for excellence for faculty, staff, and students alike. PHENOM works statewide, but also through individual campus councils, including a campus chapter at UMass Amherst.
Get Involved
We need your help in the fight for funding! If you want to join the Fund Our Future campaign or PHENOM contact Emily Steelhammer in the MSP office.